Report on railway accident at Drammen station
On 5 September 2018, work on a stormwater drainage pipe was being carried out underneath the railway tracks by Drammen station. The work was being carried out in connection with a construction project next to the station area.
A passage was being drilled several metres below the tracks using the 'directional drilling' method, with a diameter of 1,000 mm. Neither the main contractor, including its subcontractor and hired specialist, nor Bane NOR Infrastruktur expected the work to impact the tracks. The work was therefore carried out while normal train traffic continued in the area. In the afternoon, it was discovered that the tracks were moving when trains passed. Both the train traffic and the drilling work were suspended. Within a short period of time, parts of the passage collapsed, affecting two main tracks and the Tangensporet side track. The station was closed to traffic in the direction of Oslo for almost two days due to the repair work.

In the Accident Investigation Board Norway's view, the parties involved have expertise in their own disciplines, but challenges may arise when they have to familiarise themselves with other parties' work methods, rules and practices. It can be particularly challenging if they expect the other party to also identify defects or deficiencies in technical assessments carried out by others. In some cases, these expectations are unrealistic, with the result that no one has a complete overview of the total risks involved.

The Accident Investigation Board Norway does not propose any safety recommendations as a result of this incident.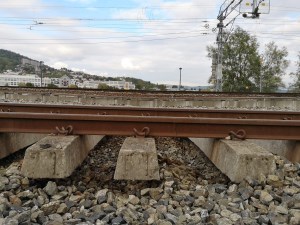 Photo: Bane NOR
Facts
| | |
| --- | --- |
| Location | Drammen station |
| Occurrence date | 05.09.2018 |
| Type of occurrence | Infrastructure events |