Report on derailment at Grovane station, Setesdalsbanen heritage railway 26 August 2019, train A1
On Monday 26 August 2019, the driver lost control of a work train at the heritage railway line Setesdalsbanen, and the train rolled on for approx. 3.5 km before derailing at Grovane station.
The work train consisted of a Robel track maintenance vehicle and two freight cars. The work train was spraying a pesticide along the track, and was just north of the Kringsjå stop when the driver lost control of the train.
The crew comprised the driver and another person, who were applying pesticide along the track as volunteer work. The other person was following behind the train with a hand-held sprayer, and the driver was in the track maintenance vehicle. The vehicle was 'locked' at low speed so that the driver could leave the driver's cab at regular intervals to check the nozzles on the spray car. During one of these inspections, the sliding door to the driver's cab closed and the driver was locked out.
There was no handle on the door, and the driver tried to open the door using tools available on the track maintenance vehicle. While he was doing this, the vehicle's gear shifted to the neutral position, and the train started to pick up speed rapidly. Most of the section of track from Kringsjå to Grovane is downhill, and the driver therefore chose to jump off the train at the Kringsjå stop. The driver suffered bruising, but no severe injuries. The train did not derail, but continued down to Grovane station and came to a stop in the gravel at the end of the track. The work train sustained minor damage.

The Norwegian Safety Investigation Authority does not propose any safety recommendations as a result of this incident.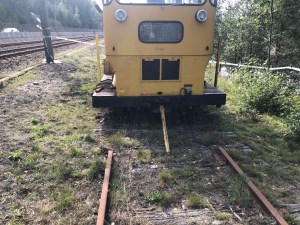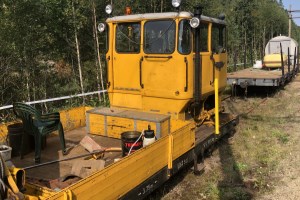 Photo: AIBN
Published 11.08.2020
Facts
| | |
| --- | --- |
| Location | Setesdalsbanen |
| Occurrence date | 26.08.2019 |
| Train No | A1 |
| Type of Transportation | Heritage Railway |
| Type of occurrence | Runaway train |
| Rolling Stock | Arbeidsmaskin |
| Operator | Vest-Agder-museet IKS |