Report on trespass accident near the Alna stop on the Hovedbanen line 2 March 2018
On Friday 2 March 2018, two people died when they were hit by train 2173 approximately 450 metres from the Alna stop in Oslo.
The driver of northbound train 2274 observed three persons on the track. The driver used the whistle to give the "train approaching" signal and applied the emergency brake, which brought the train to a stop near the culvert south of the Alna stop.

The persons were standing to the right of the front of the train bound for Lillestrøm (train 2274) after it had come to a halt. The driver of train 2274 contacted them to try to get them to come on board. While the driver was talking to them, the train bound for Oslo S (train 2173) left the Alna stop. As train 2173 approached the left-hand curve leading down to the culvert, two of the persons ran in front of train 2274 and into the path of the southbound train. As train 2173 approached, the third person also ran onto the other track. The driver of train 2173 saw persons on the track 5–6 metres in front of the train. The train hit two persons, who were both killed.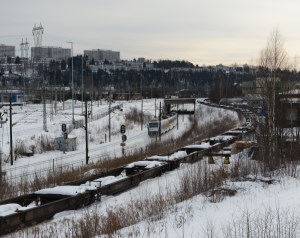 Photo: AIBN
Facts
| | |
| --- | --- |
| Location | By Alna station |
| Occurrence date | 02.03.2018 |
| Train No | 2173 |
| Type of Transportation | Passenger train |
| Type of occurrence | Trespass |
| Rolling Stock | Passenger Carriage |